The New Royal Hotel Rubyvale
"As ROYAL as it gets in Rubyvale"
Whether you crave peace and quiet or want to be in the middle of everything, the New Royal Hotel Rubyvale fits the bill and tops the list.
The NRHR is the focal point of the community, offering a certain cachet to those who have imbibed in its pub, enjoyed its cuisine, and revitalized themselves in its cabins. When you stay with us, you stay in the best place in town. Ask to see the registry book of famous people who have made the New Royal Hotel Rubyvale their itinerant home!*
A classic example of pure gem field architecture, the New Royal Hotel Rubyvale amply demonstrates that innovative building design was not the primary consideration of those who came to fossick and get rich in the Central Queensland bush. The hotel is lovingly constructed of local materials, 'billy boulders' and ironbark logs, with long roofed verandas to provide shade from the midday sun.
Four spacious log cabins are situated behind the pub, giving you a very short walk from 'had enough' to comfortable bed, without the need to drive or get lost on ill-marked country roads.
Nestle down in the alcove in your queen-sized bed (royal pedigree not required), putting kids or friends in the bunk beds and a single bed. Five people can share this spacious habitation and enjoy a bottle of booze, cards or board games on the long table. One of our cabins is modified to provide accessible facilities for the disabled.
Outside, each cabin features a veranda with table and chairs overlooking a native flowering gum garden accented by authentic Queensland rocks. Enjoy the lorikeets and white cockatoos from this quiet spot of reflection or afternoon dozing. Thrill to the magnificent vistas beyond the hotel boundaries, featuring miles and miles of outback miles. Be on the lookout for the comings and goings of our mascot, Rubyvale Roughnut, and the occasional cow or goat.
We invite you to be welcome and comfortable at the New Royal Hotel Rubyvale, the perfect base from which to hunt for rocks of all descriptions, write your novel or screenplay, or merely sleep in.
* Registry book temporarily on loan to undisclosed museum.
Contact us at info@rubyvalehotel.com.au for rates and reservations.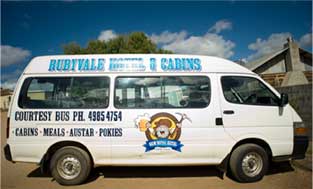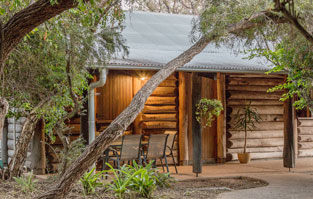 If ever you have the urge to buy an iconic pub in the Queensland outback, count yourself blessed if you have Bruce McFarlane's experienced eye. A valuer of going concerns, Bruce saw the gem that lurked underneath the New Royal Hotel Rubyvale's years of neglect. He convinced his soon-to-be-wife Wendy that commuting back and forth from Brisbane to Rubyvale was in their future. So in 2011, drawing on their years of tourism and hospitality expertise, Bruce and Wendy began the process of breathing life back into the pub/hotel.
To compliment Bruce's business savvy, Wendy brought her decades of airline experience. She knew all about customer satisfaction (the NRHR's four spacious cabins set in native gardens), moving people to and fro (their courtesy bus for those staying in both Rubyvale and Sapphire areas), feeding them (delicious pub meals available for lunch and dinner), entertaining them (Austar connected to the hotel) and handling dangerous goods (the poker machines – dangerous only if you don't know when to call it a day!) Furthermore, the busy Wendy is a published authority on the best places to shop on two continents – hence her interior design contributions and recommendations for outback gem shops.
Together the McFarlanes have adopted the New Royal Hotel Rubyvale as their home away from home, so much so that they decided to make it the venue for their recent wedding. Though it seemed safe to assume that only their closest relatives and guests would venture so far into the outback even for a joyous occasion.